On Feb. 1, Mayor Myron Bailey delivered the 2023 State of the City Address from the Cottage Grove City Council chambers. Numerous city and county officials and staff attended the speech, including members of the city council, police, Washington County Commissioner Karla Bigham, and members of the Chamber of Commerce. The event was open to the public for all interested residents to hear the mayor's summary of the current direction of life in Cottage Grove.
The address covered a wide range of topics facing the city, including community involvement, business and industrial expansion, housing additions, public parks and recreation, and sustainability, among others. Primarily, the overall theme centered around Cottage Grove's recent rapid growth and how it is being managed from the city level.
"I'm focusing my message this evening on the topics that I've heard are important to you," Bailey said. "I can truly say that I am honored to serve as your mayor."
Bailey noted that Cottage Grove is currently one of the fastest-growing cities in Minnesota, and ranks 25th in the state in terms of population size, now topping 41,000.
"One thing is for certain," Bailey said. "We will never compromise on our core values and the delivery of important city services you have come to expect. We plan to sustain yet manage growth, and we are committed to the happiness of our residents and neighbors."
Referencing a recent Strategic Planning Meeting, he said they had discussed ways to encourage continued successful growth in the city. Family, community, and teamwork were three areas they laid out as their primary focal points. He pointed out that Councilmember Dave Thiede had recently referred to Cottage Grove as "the biggest small town in Minnesota" and underscored that the goal going forward is to maintain a small town feel while maintaining the city's community pride.
Bailey praised several community events that came back to Cottage Grove in 2022 after being temporarily put on hold during the pandemic. These included well-attended police and fire department open houses, police/ community outreach through a new community engagement program, last summer's "Night to Unite" event, the offering of several health and public safety classes, and an upcoming Public Works open house.
He expressed the city's pride in continuing to improve its existing parks and public sporting facilities, and the planning and construction of new public projects like the coming Glacial Valley Park and Mississippi Dunes Park developments. He noted technological and safety infrastructure improvements, such as installing a lightning detection system in Kingston Park and replacing aging early warning sirens.
As the need for housing grows as the city's population continues to rise, the mayor made clear that development is planned to continue at a high pace.
"Cottage Grove is a very desirable community for individuals and families," Bailey said. "We have recently seen an influx of new apartment complexes being built, due to the huge success of the Grove 80 apartments in 2021. The city hasn't seen this type of housing option over the past couple decades, so this is an exciting time as we meet with developers who want to bring quality and affordable apartments here. This also ensures that more people who want to live in Cottage Grove can afford to do so. You will continue to see more high-density apartment complexes being proposed later this year in different parts of the city."
Industrial and business growth is planned to continue as more companies continue to move to Cottage Grove. Showing a recently spiking historical graph of commercial construction and permits in the city, he stated, "The valuation of commercial and industrial permits for 2022 in the City of Cottage Grove totaled over $373 million. We have immense interest in the few available spots left in the Business Park. We are one of just a few communities in the southeast metro that has large tracts of land available for new industrial developments. These areas remain in high demand, and we will continue to market them."
Citing the NorthPoint development in the Logistics Park as an example, Bailey pointed out that when fully built-out it will comprise over 3.4 million square feet of space for lease, creating approximately 1,800 jobs. Recent expansions by Renewal by Anderson and LeafLine Labs, as well as other companies looking to expand later this year offer the opportunity for more local commerce and employment in the future. He also highlighted a planned location by RJ Schinner south of Hamlet Park and a new 250,000 square foot distribution center near 95th and Jamaica. "Our business park is the talk of the industry," he added. Other businesses in the process of moving to Cottage Grove are looking to fill out existing spaces for building or lease. These include locations by Pizza Ranch, Jersey Mike's and Thai Garden restaurants, Ulta, and Pacific Dental. A new children's play space called The Little Village is close to opening this coming spring, as well as a new day care facility, Oh To Be Kids.
The need for new hotels to accommodate increasing numbers of visitors to the city is being explored.
"In December, the city council adopted the finding of a recently-completed hotel market study that indicated the city's needs for additional hotel space," Bailey said. "This has been sent to representatives in the hotel industry, and we have been meeting with these representatives on the next steps to present various locations around the city that will meet their needs."
After detailing all the rapid growth in progress, the mayor again pointed out that preservation of the city's natural resources, open spaces, water quality, environmental education, wildlife/pollinator habitats, and natural beauty will remain a continuing goal.
Bailey noted 3M's historical PFAS groundwater contamination concerns in the area persist, but that Cottage Grove's water continues to meet all local, state and federal safety guidelines. Two new water treatment plant facilities are in the planning process, which will be paid for by the 3M settlement agreement. Project bidding is planned to begin this spring, and the first facility should be completed and operational by 2025.
"Rest assured our current temporary treatment facilities are operating effectively, and our water is safe to drink," he added.
Transportation delays in areas of the city amidst increasing business and residential traffic are noticeable. One such area is near the intersection of Jamaica Avenue/East Point Douglas Road. Planned changes, including a two-lane roundabout where stoplights currently operate, will seek to ease the traffic flow in the future. The improvements are budgeted at a total cost of $8.9 million, $1.2 million of which will come from MNDOT. Bailey acknowledged that the project will take time, and will likely make traffic more difficult at times during construction. He asked residents to please support the surrounding businesses as much as possible throughout the transition.
Continued maintenance and replacement of pavement on city roads continues to be of major importance. One planned project will utilize $5 million in federal funds to replace large sections of 80th Street between Highway 61 and Ideal Avenue. Bailey thanked Sen. Amy Klobuchar, Rep. Angie Craig, and Sen. Tina Smith for their assistance in securing the funding for the improvement project, adding that additional funding is currently being pursued for other road projects in coming years.
"I hope you would be patient with these important road projects and know that in the future it's going to be even easier to get around town," he said.
The mayor highlighted the comparatively low taxes paid by residents for city services and home ownership, citing a roughly $90 monthly property tax for a home valued at $326,900, with a modest 3% increase per year on average. He noted that this comes in lower than nearly every other city in the southeast metro.
"Cottage Grove is a wonderful place to live, work, and play. We anticipate more growth in the future, and the city is in a great position for that. There are reasons that people want to make Cottage Grove their home. We have something special here. Low taxes, great service, awesome amenities, super schools, and the list goes on," Bailey said in closing. "Thank you for your continued support, and for communicating your thoughts, feelings, and love of our city. Together, Cottage Grove will continue to be the best place to raise a family, open a business, or play in our parks and recreation facilities."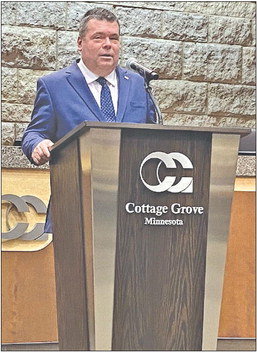 Mayor Myron Bailey delivers the Cottage Grove State of the City address Feb. 1 from podium. Photo by Dan Solovitz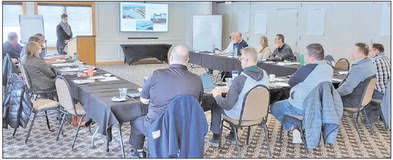 City staff and officials meet at a Strategic Planning Meeting to discuss future plans. Graphic courtesy of the City of Cottage Grove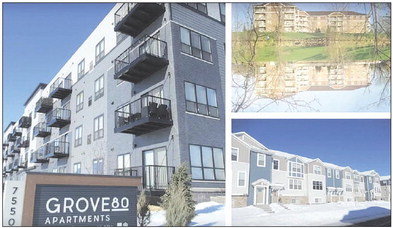 New apartment complexes in Cottage Grove. Graphic courtesy of the City of Cottage Grove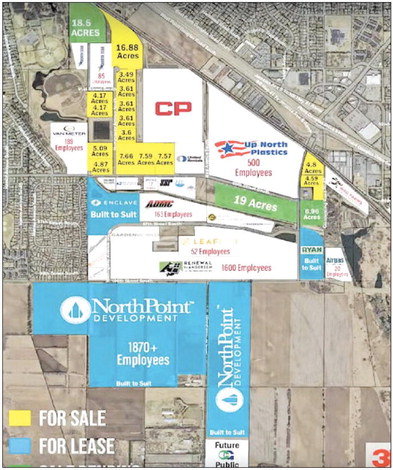 Layout of the business park with proposed future expansion. Graphic courtesy of the City of Cottage Grove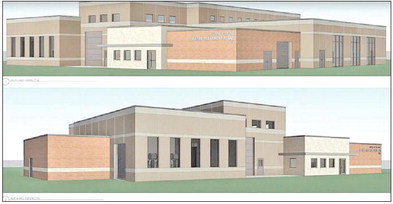 Proposed city water treatment facilities in Cottage Grove. Graphic courtesy of the City of Cottage Grove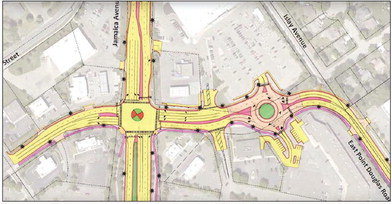 Planned traffic improvements at Jamaica Avenue and East Point Douglas Road South. Graphic courtesy of the City of Cottage Grove