It's been a long and challenging 2022-23 season for the Minnesota Golden Gophers (7-15, 1-11), the latest a blowout loss at home Saturday to visiting Maryland (16-7, 7-5), Minnesota losing 81-46.
One of the bright spots that's emerging in a dark season, however, has been the play of 6-foot-9 freshman power forward Pharrel Payne of Cottage Grove.
On Saturday against Maryland, Payne scored Minnesota's first eight points and led the Gophers with a season high 14 points and six rebounds, including three first-half dunks.
Payne has been steadily improving as the season has gone on, especially now that the Gophers are down several players due to injuries and his basketball abilities are needed more than ever.
"He's a really good skill-level young guy," said University of Minnesota men's head basketball coach Ben Johnson. "He was physically ready from day one. Strength-wise he's very athletic. He has a great work ethic and a bright future for us."
Payne is averaging 7.3 points, 4.6 rebounds, 1.3 assists and 1.1 blocks in about 21 minutes a contest. His field goal percentage of 66.7 leads the Gophers.
Earlier this season Payne missed the 61-57 loss to Indiana following a concussion protocol but returned to play against Northwestern. He's missed just one game this season.
Basketball success is nothing new for Payne.
As a senior at Park, Payne was a Mr. Basketball Top 10 finalist, an award given to the top boys' basketball player in the state. He was first team all-state his senior year and second team All-Metro despite missing the first eight games due to injury. He averaged 22 points, 12 rebounds and two blocks per game for Park as a senior and led the Wolfpack to a 20-9 overall record and a trip to the Section 3AAA Championship. Payne had 10 games with at least 20 points his senior year and three-30 point games.
Payne's skill set took another leap last summer with the Minnesota Select team. He scored in double-digits in 16 of 20 games.
Then it was on to Minnesota.
Payne's strongest strengths are both physical and personal, said coach Johnson.
"His athleticism is one of his biggest strengths," said Johnson. "He can play above the rim. An overall strength is that he can get the space to go from A to B and explode over the defense. Now he's figured out different counters.
"As a person he's a firstclass guy," Johnson added. "He's really humble and all about the right stuff. He treats people the right way, does all the little things right, on the court, in the classroom and in the community."
Johnson would like to see Payne be more consistent on the court the rest of the season. As for the off-season, Johnson sees no storm clouds on the horizon.
"It's just a matter of fine tuning his game," Johnson said. "He can take a big jump from his freshman to his sophomore year."
The pace of the college game and the strength and skills of the players is often a bit of a shock for freshmen who are usually used to dominating in high school, but Payne thinks he's adjusted to it.
"I expected it, but actually playing it has been a bit of a shock, especially the physically of it," Payne said. "Now I feel like I'm able to get it going really. Everything is coming better to me."
Two things Gopher coaches have been emphasizing to Payne this season are being more aggressive in the post and working to get up his confidence.
Like his coaches, Payne believes he's progressing much as hoped for at the U.
"I think I'm making good progress from start of the season," Payne said. "I still need to work on my post defense and post ups on offense."
And despite a won-loss record that's been less than stellar, Payne passed on the opportunity to say the season has been frustrating.
"As we go, we learn, and get more experience for next year," Payne said.
Park head boys basketball coach Mike Weah hasn't been the least surprised by Payne's success this season.
"I think Pharrel and the U are doing a really good job on his progress," said Weah. "He's gotten even stronger. Of course you can see that the game is different for him right now. It's moving even a lot faster than it was in high school. But he's doing a good job adjusting. He's doing his role as a physical dominance in that paint area. I know he's very vocal on that team.
"It seems the coaching staff trust him and he trusts his coaching staff," Weah added. "So as long as he's playing his role, he's having fun. It feels like he's getting better and you couldn't ask for anything more.
Weah agrees that Payne's best basketball days are ahead of him. "Looking at him right now the way that he looks, he looks comparable to how he did against competition his sophomore year when he was here. The fact that he's so much stronger than everybody right now I think it's going to get pretty dangerous, He's going to be pretty dangerous within the next year or two years."
Despite a schedule full of classes, practices and games, Payne is no stranger to the Park sidelines this season.
"I always make time to come back and watch former teammates play and support my community," Payne said.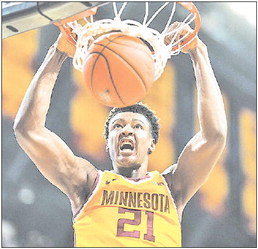 Freshman froward Pharrel Payne of Cottage Grove slams one down for the Minnesota Gophers Saturday against Maryland.Photo by Brace Hemmelgarn, courtesy of the University of Minnesota.