Prairie Ridge Park – Woodbury
Located just south of I-94 in the northeast corner of Woodbury, Prairie Ridge Park is a hidden gem of nature and solitude juxtaposed against the thoroughfare of Manning Avenue South.
I've driven past this little stop in nature many times and wondered what treasures it held. Today was the day. Big boots on. Snow attire set. On the road and finally ready to uncover and discover the story that lay behind the Prairie Ridge Park sign from the roadway.
I was welcomed with a plowed and empty parking lot, surrounded by tall trees. I stepped out of the car and was immediately taken by the sounds of vehicles rushing past on Manning. It was an oddly calming feeling to see a quiet tree resting in winter's throes blended with the sounds of a semi-truck rumbling by.
It is a dog friendly park, evident by the change in snow color and the free doggie bags at the welcome sign.
The outermost trail of the park is a loop extending a little under a mile and a half in length, specifically 1.4 miles on the outermost trail rim. One must make the decision to start their journey by going left or right. I chose left. The snowy path was well worn and level in most places for single file walking. Connected paths reside within, allowing for shorter routes or the ability to view the scenery from a different perspective.
As I trekked further away from the roadway, the blending of nature and sounds of civilization became more balanced. Soon the energy of nature overtook the senses and civilization ceased.
Animal trails intersected with the walking path and birds chirped stories to each other, but in general, it was quiet. Very quiet. There was a connecting path to the right, but I continued west on the outer rim. The farther I traveled, the more silent the world became. Everything was still. Eventually I went as far west as allowed and veered right to more trees, silence, and an ever-present gray sky.
I could feel a bit of confusion in my heart about this stillness, this silence. It was throwing me off. I had these grand ideas of meditating in the solitude of nature – how at peace and connected I would feel. Ironically, when faced with that exact situation, I found myself feeling alone. It was very perplexing.
While deep in thought, I saw something moving quickly in the distance. I "Yelped!" in surprise and embarrassment. What materialized was a sweet-mannered dog out for a trot with its owner. This was a very welcome surprise! I couldn't believe my luck. I was not alone. We had nothing more than a two-minute chat about our experiences in the park thus far, but afterward I felt a wonderful sense of relief.
From there I truly started to relax and enjoy my hike with a lightness and freedom that had not existed prior. I stopped and gazed at an open field of snow surrounded by trees and felt happy. I looked to the west and saw a giant gray storage facility and smiled. How wonderful and strange that one quick connection with a human could change my perspective so quickly. We are truly complex beings.
I continued walking the perimeter, leaving the field of snow for another wooded hike. The trees were tall and slim, with snow frozen on them like decorations from the sky. Nestled to the north of the trail were views of open fields, trees, and more storage facilities.
As my 27-minute loop was coming to an end, I found myself immersed in moments of reflection, photos and note taking. I could hear Manning Avenue South before I saw the parking lot and felt a bit surprised. I had finally gotten used to the silence.
When I returned to the parking lot, I saw the vehicle of the human connection I had made earlier in my trek and nodded gratitude to their existence.
I set my vehicle in motion heading homeward, bound to the background noise of city life.
If ever the time calls to explore the energy of solitude and stillness within city limits, don't hesitate to visit the quiet beauty of Prairie Ridge Park, situated in northeast corner of Woodbury.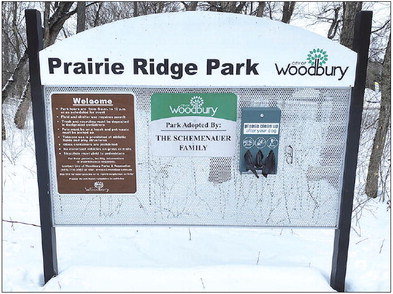 Welcome sign in Prairie Ridge parking lot. Photo by Nerissa Solovitz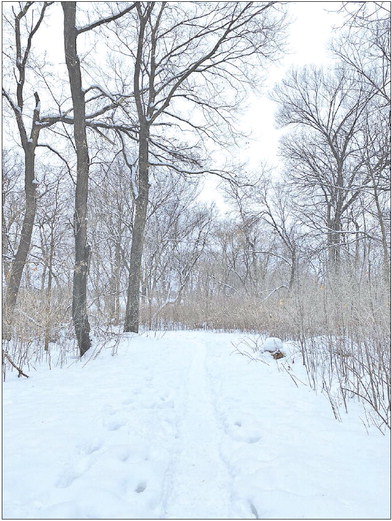 Cleared hiking path. Photo by Nerissa Solovitz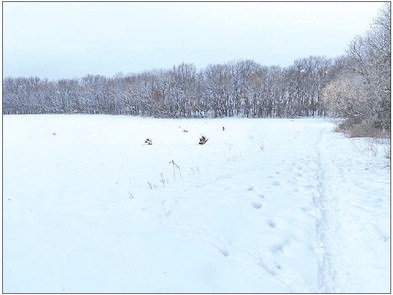 Open field of peaceful snow. Photo by Nerissa Solovitz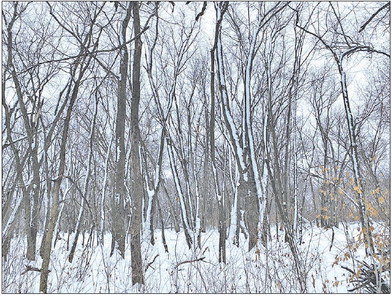 Snow-covered trees along the trail.Photo by Nerissa Solovitz