By Dan Solovitz
Due to a number of seemingly- random recent power outages in some neighborhoods of Cottage Grove, a City Council Action Request resulted in a representative from Xcel Energy presenting at the council meeting on Sept. 7 to give an energy update from the power company.
The City Council asked for a report on the reasons for the outages, and what Xcel plans to do to rectify the situation going forward.
Kirsten Sersland, the new Xcel Energy Community Relations Manager for the Southeast Metro, spoke to the council, assisted by Tricia Duncan, Xcel's Director of Community Relations for the state of Minnesota.
"We appreciate the relationship that we have with Cottage Grove, and I look forward to working together in the future. I'm happy to be here tonight to update you on who we are, what we do, and give you some answers. I am the liaison between Xcel Energy and the 40 cities and townships in the southeast metro and Dakota County. I advocate for company initiatives and policies in this geographical area, related to company projects, economic development opportunities, franchises, neighborhood-level outages, and permitting," said Sersland.
Sersland then pointed out that Xcel's priorities include working toward a clean energy transition, reducing carbon footprints, achieving net-zero natural gas production by 2050, and upping the number of electric vehicle owners by 1.5 million by 2030.
Regarding the reasons for the recent outages, she described the primary transmission system for power to the city's homes and businesses. It begins by generation at the power plant, and the power is carried by transmission lines to neighborhood substations, which step down the voltage. Feeders and taps deliver that power to neighborhoods at a lower voltage. Transformers in the city's neighborhoods drop that to an even lower voltage for use in homes and businesses.
"The greater Cottage Grove area is supplied by 13,000volt feeders from the Cottage Grove and Chemolite substations. The cause of the outages earlier this summer were due to feeder splice failures and overloading on extremely hot days in late June and early July, and the overloading was on the transformers," she said. "We're going to be replacing 2,600 feet of underground feeder on 80th Street South between Hadley and Harkness Avenue. That is scheduled to be completed in the first quarter of 2023."
Council Member Justin Olsen raised the issue of recent Xcel rate increases, and how that compares with the lack of service some city residents have experienced of late.
"In Cottage Grove, we have a kind of tale of two cities, with regard to all of the new that we've been enjoying for some time. And we've seen lots of problems with Xcel outages. People, on the hottest of days, who don't have an air conditioner working because there's a power outage. But yet the rate increase proposals are pretty steep. In fact, the most recent proposal to the Public Utilities Commission is over 20% in a three-year timeframe. So, we're looking at 12% in 2022 and then close to 5% for each of the next two years. How much of that money is going to be invested in infrastructure, to ensure that our people don't suffer the same challenges that they're suffering now with power outages?" asked Olsen.
Sersland replied, "Energy is getting more expensive, that's just a fact. It's getting more expensive for us to produce it, it's getting more expensive for us to move it. At what point do you feel like you're getting the return on your investment? I can't answer that, that's a little subjective. But just know that we do take our commitment to Cottage Grove very seriously. We are committed to being here, and we're investing in the community in a lot of different ways."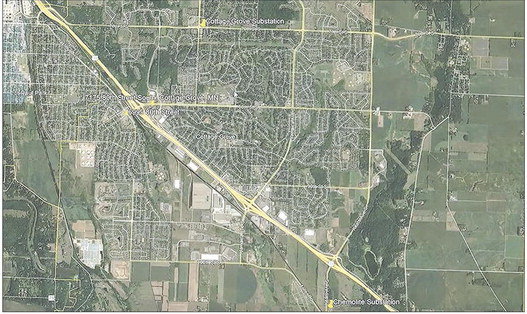 Map showing the two main power substations that serve the city; the Cottage Grove Substation to the north, and the Chemolite Substation to the south. Image courtesy of the City of Cottage Grove