On Wednesday, Nov. 16, Mackenzie Delaney, a third grader at Nuevas Fronteras Spanish Immersion School, was honored as "Mayor for a Day" in Cottage Grove.
According to Cottage Grove Communications Manager Eric Rigby, Delaney's day as mayor began after school, when she was picked up by Police Chief Pete Koerner, and ended that evening after early proceedings of the city council meeting. She called the meeting to order, led the Pledge of Allegiance, and then was given a plaque by Mayor Myron Bailey in honor of her service as "Mayor for a Day."
Delaney had a full afternoon touring the city, including a Zamboni ride at the Cottage Grove Ice Arena, traveling in a snowplow to the Public Works building with Lead Street Worker Mike Weber, and meeting with Fire Chief Rick Redenius at the Central Fire Station.
Rigby said, "Rick gave Mackenzie a tour of the station and explained the history of the station as it's grown along with the city. Mackenzie saw the fleet of trucks and vehicles the department uses, the uniforms that the department members use when on shift, the living quarters for when staff is on shift, and she asked questions about what it takes to become an EMT and a firefighter."
Delaney's tour ended with being shown around the police department with Community Engagement Officer Dan Schoen.
Rigby added, "Mackenzie saw the police vehicles, holding cells and evidence rooms, and got to see some of the robots and gear the SWAT team uses."
Before participating in the city council meeting that night, she presented her essay to city officials and staff at a pizza dinner and according to Rigby, "taught some of the staff members useful phrases in Spanish."
Mayor Bailey stated, "What is really amazing about 'Mayor for a Day' is that it's fun for me and I know it is for the council and our staff too, to read the letters from our youth and students here in Cottage Grove."
Delaney's winning essay focused on park accessibility and maintenance, language inclusivity, and making sure "Cottage Grove continues to be a community where everyone is welcome and is a fun place to live." Her essay was chosen from nearly 40 contest entries.
This is the third year of Cottage Grove's "Mayor for a Day" program, which is open to all kids ages 8 to 11, who live in Cottage Grove.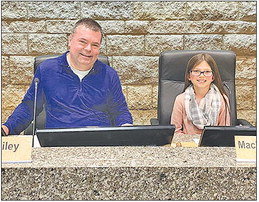 Mayor Myron Bailey and "Mayor for a Day" Mackenzie Delaney at the Cottage Grove City Council meeting. Photo by Dan Solovitz