Park and Forest Lake battled to a 2-2 tie Saturday afternoon in girls hockey at Forest Lake, the Wolfpack's first tie of the season.
The Wolfpack jumped out to a 2-0 lead in the first period on goals by Alaina Post and Molly Villas. And that's where the score stood until the third when the Rangers pushed in a pair of scores to tie the game.
Neither team could score in the overtime period.
Maggie Jensen and Taylar Nadler had assists for Park.
Park (4-8-1, 9-10-1) skates at White Bear Lake (3-10. 7-14) Thursday, starting at 5:15 p.m.
Park 5, Mounds View/ Irondale 3 Park trailed visiting Mounds View/Irondale 3-1 early in the third period and weren't looking particularly good.
In other words, the Wolfpack – and Taylar Nadler in particular — had the visitors right where they wanted them.
Mounds View/Irondale led 1-0 after one period, 2-1 after two and 3-1 early in the third. That's when the fub started for Park.
The Wolfpack slammed in four goals in the game's final 11 minutes, including a hat trick by senior center Nadler, to win a 5-3 thriller Thursday in Suburban East Conference girls hockey. Nadler scored at 12:22, and at 13:55 for a 4-3 lead, then added insult to injury by pushing in an empty net at the 16:56 mark.
"I feel like in the locker room after the second period we all just kind of came together and said that we need to get going and I kind of just took the reins and did it myself I guess but I needed all of them to do it with me though," said Nadler. "They all really helped out. I couldn't have done it without Maggie Jensen or anything. We all just kind of came together and really finished off the game."
"We're really pumped," Nadler continued. "I feel like we really needed this win. We needed a comeback win especially."
Park outshot the visitors 37-23.
"We outplayed I thought in the second," said Park head coach Bay Shock. "We outshot them I think 13 to 3, but you're still down. So you've got to figure out a way and with Morgan getting that second one, it was huge. I think we had six minutes or something left and she pops that thing in and all of a sudden it just turned."
Indeed. Before Nadler's third-period heroics, freshman forward Morgan Kelsey knocked in a key score to bring Park within one at 3-2 at 8:54 in the third period.
"We knew we could do it," said Kelsey. "We just have our confidence, and we all have each other, and we all cheer and we all get pumped. I felt that always helps us."
Lauren Osland got Park's other goal, a first-period score that closed the deficit to 2-1.
Goalie Tori Stepka stopped 20 of 23 shots for an .870 success rate.
"We'll take it," said Shock. "I don't know if we've come back too many times. In between the second and third I asked them have we come back on anyone?"
Next up for Park is a game at White Bear Lake (3-10, 6-14) Thursday, starting at 5:15 p.m.
East Ridge 2, Park 1
East Ridge scored the game-winning goal midway through the third period to edge the Park Wolfpack 2-1 in girls hockey Tuesday at Cottage Grove Ice Arena.
The two teams battled through two scoreless periods before the Raptors struck first at 2:56 in the third period to take a 1-0 lead. Park battled back to tie the game at 1-1 on a goal by Lauren Osland at the 4:39 mark.
The Raptors then added insult to injury by scoring what turned out to be the game-winning goal on a short-handed score at 9:50.
East Ridge (8-4, 12-8) outshot Park 34-18.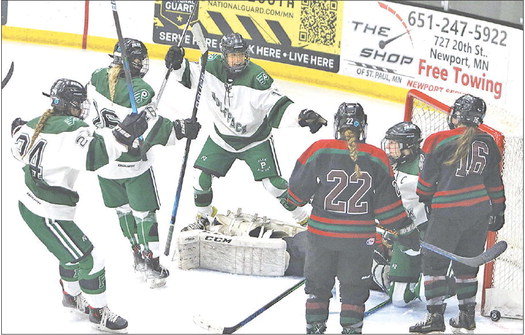 Senior Taylar Nadler celebrates after scoring the game-tying goal in the third period against Mounds View/Irondale. Nadler scored a hat trick in the game's final eight minutes. Photo by John Molene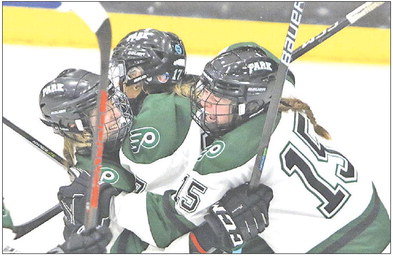 Wolfpack players celebrate an improbable win Thursday night. Photo by John Molene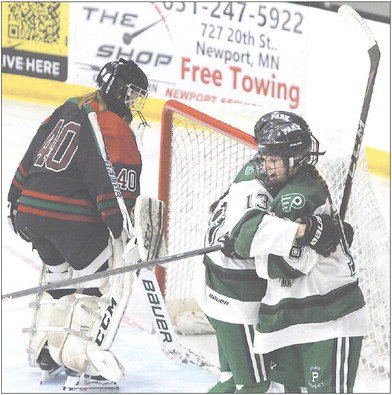 Morgan Kelsey gets a hug from teammate Cassidy Moen (13) after she scored midway through the third period to forge a 3-all tie with Mounds View/Irondale. Photo by John Molene