Park's offensive woes continued Friday as the host Wolfpack couldn't muster enough offense to hang with visiting Roseville in a 50-33 loss.
It was the fifth straight conference loss for the Wolfpack, who fell to 3-8 in the Suburban East Conference and 6-10 on the season.
In Park's six-game slide, the Wolfpack are averaging just 33 points a game while giving up 51 points.
Park stuck with Roseville for most of the first half, trailing 19-12 at the break. The second half quickly got away from the Wolfpack however after Park closed to four early in the half.
Roseville turned a 21-17 lead with 13:46 to play into a 45-23 advantage with 6:21 to play in the game, outscoring Park 24-6 in that seven-minute stretch.
"Our gaps of time where our opponent gets on a run have got to decrease because they go on runs like at the end of the first half, they scored five quick ones and we didn't have an answer," said Park head coach Stephanie Tolkinen. "And then the same thing in the second half. We have a scouting report to follow and sometimes kids forget what they're supposed to do."
Junior Tori Henderson had 9 points to lead the Wolfpack. Sophomore Tenley Nelson and ninth grader Graycie Smith added 7 points each.
"Tori did a great job of keeping 10 (Roseville's Drew Johnston) in check," Tolkinen added. "We battled on the boards. I thought we did a pretty good job for the most part. Gave up still too many offensive rebounds. Didn't give up as much in transition last time we played them (a 58-47 Roseville win). The kids fought like heck. I was really proud of them for their effort that they put in. But we had it within a six-point game and we're playing our kind of game that we want to play and then all of a sudden it got away from us."
Roseville's shooters knocked down 10 threes in the game, seemingly hitting one every time Park tried to make a move.
Park hits the road for two games this week, playing at Cretin-Derham Hall (48, 7-10) Thursday, then at Rosemount (13-2, ranked No. 9 on Class 4A) in a non-conference contest Saturday afternoon.
White Bear Lake 39, Park 37 Park's plans to spring the upset fell a bucket short Wednesday as the Wolfpack lost a 39-37 heartbreaker to a good White Bear Lake team at Cottage Grove.
The Bears, contending for a Suburban East Conference crown, improved to 9-2 in the conference, one and a half games back of league-leading East Ridge.
Park slipped to 3-7 in the conference and 6-9 on the season.
Park led 14-13 after a low-scoring first half. The teams picked up the offense after the break and White Bear Lake outscored the Wolfpack 26-23 in the second half.
Sydnee Nelson had 11 points to lead Park. Bryleigh Dana added 8 and Tori Henderson scored 7.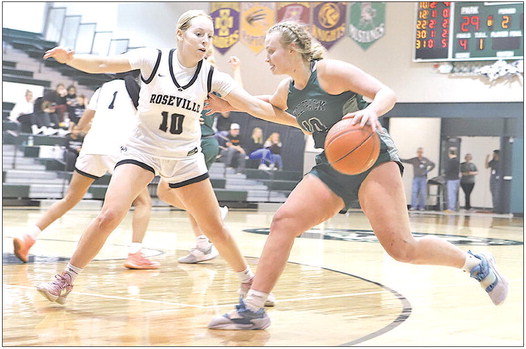 Park junior guard Tori Henderson looks for a way past a Roseville defender in the second half Friday. Photo by John Molene