Senior Mitchell LeMay stroked to half his goal of being one of Park's fastest freestyle swimmers ever, setting a near school standard in the 50 freestyle Thursday night and just missing another school record in the 100 freestyle.
LeMay swam a 21.83 time in the boys 50-yard freestyle, knocking former teammate Devin Schwartz 's mark of 21.87 off the top of the leader board.
"What I did right was I broke the record," said LeMay. "There are some things to improve on but overall, it was a really good race. I think Devin could have made that a little bit harder. My start was really, really good. It was better than usual. Everything was pretty spot on. I could have probably, my pull outs and my strokes, my breathing could have been a little bit faster, a little bit faster acceleration but other than that it was a really good swim."
Park head coach Amanda Johnson agreed, "I think we knew he wanted to go for it and I think we've been practicing his turn, we've been working really hard on accelerating into the turn and getting off that turn pretty hard," said Johnson. "And he had a great finish. Sometimes that finish can be millisecond of a yes or a millisecond of a no. I just think everything fell in place for him today."
Eight events later Le-May was at it again, winning the 100-yard freestyle in a blazing time of 47.51. Last year graduate Matt Glenna holds the school record in the 100 freestyle with a time of 47.39.
"I'm trying to get rid of Matt as much as possible," said LeMay.
Not counting relays, which cancel each other out, Glenna holds school records in the 100 (47.39), 200 (1:43.33) and 500 (4:48.34) freestyles. Le-May is now Park's fastest swimmer in the 50 freestyle (21.83) and 100 butterfly (51.05). One also gets the feeling LeMay has another record yet to come.
Oh, and Stillwater won the meet 100-70 at the Cottage Grove Middle School pool.
Park was second in the 200-yard freestyle relay with the team of Le-May, Mason Darling, Logan Schweigert and Jack Schweigert finishing in 2:21.17. The 400-yard freestyle relay team of Le-May, Jeseritz, Jack Schweigert and Jackson Harre finished in 3:32.98. Park's 200-yard medley relay team was disqualified.
Parker Jeseritz finished second in the 200-yard IM in 2:12.99 and second in the 200-yard backstroke in 1:00.18.
"I was happy with my 200 IM, said Jeseritz. "I cut just a little bit off that so that was pretty good. I swam it recently a couple meets ago and it was a 2:13.1 and I just got it to 2:12.99 which was just so close there, so I'm really happy about that. I always feel a little bit tired after that so my 100 backstroke it was OK. The bad thing about it is the pads are very slippery, so my backstroke start wasn't the best. But I worked past it."
Darling won the 100yard breaststroke in 1:02.11 and finished fourth in the 50 freestyle (24.28) Jack Schweigert was second in the 200-yard freestyle in 1:59.41 and third in the 500-yard freestyle in 5:27.20. Logan Schweigert finished fourth in the 100-yard butterfly in 1:06.00.
Ethyn Schilling was third in the diving with a score of 153.30.
"I think they swam pretty well," said Johnson. "We've had a lot of meets back-to-back-to-back and now this week we've had a little more down time of actually going through our strokes. We've been pushing them pretty hard and so I think they swam well today considering we didn't let down on them at practice. Which is great because the next couple of weeks that's all we'll be doing."
Park swims against Cretin- Derham Hall Thursday in a meet held at St. Catherine's in St. Paul starting at 6 p.m.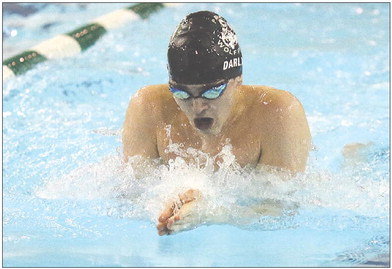 Mason Darling finished first in the 100-yard breaststroke in a time of 1:02.11. Photo by John Molene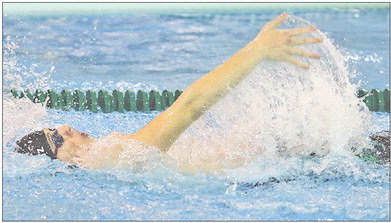 Parker Jeseritz of the Wolfpack strokes to a second-place finish in the 100-yard backstroke in 1:00.18. Photo by John Molene